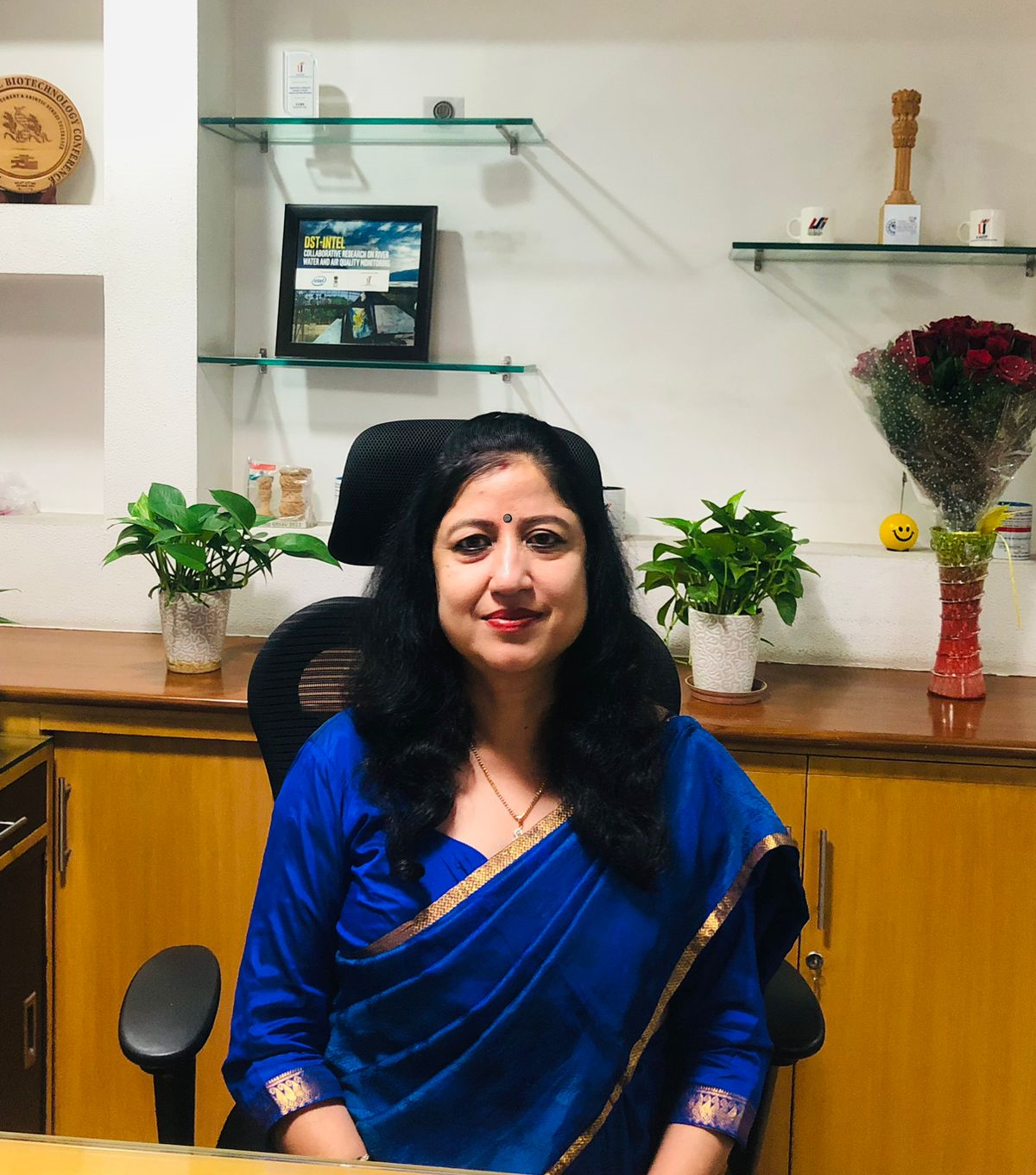 Dr. Nisha Mendiratta
Executive Director, IUSSTF
A passionate scientist spearheading 2 key programs of national importance under Dept of Science & Technology, Govt of India. Overall 32 years of experience with the premier research and development institutions of the country in the areas of Science & Technology. Have extensive experience and expertise in strategic planning, conceptualizing and implementing scientific programs & missions; policy interventions; capacity building; inter-ministerial coordination; instituting international collaborations; and conducting research. A recipient of the meritorious PG fellowships in post-graduate and doctoral level at IARI where she acquired second position in All India Level competitive entrance examination.
EXPERIENCE
Dr. (Ms.) Nisha Mendiratta is Advisor and Scientist-G in the Department of Science and Technology(DST), Government of India and spearheading two important and crucial Divisions of DST viz. Women in Science and Engineering-KIRAN (WISEKIRAN) and Climate Change Programme (CCP). She has Thirty Two (32) years and Eight (8) months of working experience in the research and applied fields of Science. She graduated in Physics from Delhi University & did her Post Graduation in Agricultural Physics from Indian Agricultural Research Institute (IARI), New Delhi . She did her Ph.D in Agricultural Chemistry.
She is the recipient of the meritorious PG fellowships in postgraduate and doctoral level at IARI where she acquired second position in All India Level competitive entrance examination. She has also acquired specialization by undertaking a Post- Graduate diploma course (ten months) in "Satellite Remote Sensing and GIS" for the application of agriculture & soils at the Indian Institute of Remote Sensing(IIRS), Department of Space (DoS), Dehradun.
She started her professional career in 1990 as Scientist: SA" at National Remote Sensing Center (NRSC) , Hyderabad in Department of Space (DoS). She carried out core research in the field of microwave remote sensing applications. She then Joined IIRS, Dehradun as their faculty in 1991 and carried out intensive research in crop characterization using satellite data. She joined the NCMRWF Programme , currently under Ministry of Earth Sciences, as Senior Scientific Officer during 1992 and worked for medium range weather forecasting and crop weather modeling.
In 1998, she joined DST as Scientist and developed new scientific programmes for NRDMS (Natural Resources Data Management System) in the specialized domain of natural resources management . She has been working for the newly established Climate Change Programme (CCP) division of DST , since its inception in 2010. It is responsible to implement the two national missions on climate change under National Action Plan on Climate Change(NAPCC) launched by the Prime Minister Council on Climate Change (PMCCC) of India.At present, more than 200 institutions involving 1500 scientists all across the country are working whom she is guiding over the decade while implementing these new initiatives of DST.
She was instrumental in developing bilateral programmes with US and Switzerland on CC wherein 50 young researchers were trained in CC science. She developed prestigious Full-bright Kalam Climate Fellowship which has been imparted to more than 30 Indian students to visit labs of US of their choice .She also led the Science Communication programme of DST.
Under the able leadership of Dr Nisha Mendiratta, the WISEKIRAN Scheme of DST is supporting and promoting aspiring Women and school girls right from the beginning of their carrier in Science & Technology Domain through many innovative programmes. She is bringing significant changes in professional life of women scientists as she is guiding and nurturing women scientists individually and sensitizing institutions simultaneously for gender sensitive approach. Dr Mendiratta is playing pivotal role in implementation of GATI (Gender Advancement for Transforming Institutions),a unique Programme for the country announced by Hon'ble President of India, where she is mentoring 30 selected Indian institutions and also connecting them with UK institutions for experience sharing.
Dr Nisha Mendiratta led a delegation to Oxford University, UK to exchange experiences on diversity aspects and presented the Indian perspective with other countries which was very well taken by all. She is also working towards developing an overseas programme for young researchers and women faculty as per the national plan.
She is ensuring quality STEM education of girl students under another unique and popular programme entitled "Vigyan Jyoti" launched by DST. It enable them to prepare to choose career in underrepresented areas of STEM. At present, more than 18000 girls from 200 districts of the country have been enrolled. She is working towards covering 500 districts covering 1,50,000 girls in the coming plan years which would be a big contribution to the society.
She also conceptualized and developed a very popular Women Fellowship Programme (WOS) with a focus to pursue research on basic science, IPR internships and S&T for the societal interventions which has benefitted more than 6000 women scientists and entrepreneurs so far .
As Head of National Council of Science & Technology Communication(NCSTC) she played a pivotal role in developing methods for communicating S & T to the underreserved areas of society. She launched an initiative for translating Science Wikipedia pages into Indian languages to benefit a large section who may not be conversant with English language.
AWSAR was another programme to enhance articulation skills in young researchers through awarding them. A mobile Exhibition on STEMM with Ministry of Culture was developed by her which benefitted several students and local communities at far off places. She has also led a delegation of 20 selected students along with INTEL to IRIS International Science Fair at Phoenix where 4 Indian students were awarded.
A dedicated Science Channel was set up by her dedicated efforts to take scientific content to national audience through Doordarshan Channel and OTT platform. A Community Radio programme for creating awareness among rural community was implemented by her.
Her career Is a role model for many girls and women. Coming from a modest background and having studied in government school, she overcame lot of obstacles to reach pinnacle of her career. She has represented DST in many international forums including Conference of Parties (CoP) conducted by UNFCCC which is attended by more than 190 countries. Since the start of Paris Agreement in 2015, she has been hosting special technical events on DST's national missions from CoP-21 to CoP-27 held at Paris, Morocco, Katowice, Poland ,Bonn, Germany and recently at Sharm-Al Sheikh, Egypt.
She has edited a special issue of Current Science Journal which published outcomes of her programme , also edited and co-authored two books published by TERI Press with several research papers / articles to her credit which were either published or presented in various national and international forums and many integrated technical documents and reports on the scientific programmes implemented by her .
She is an identified resource person and serving as member in many national and international committees and task forces viz. in UPSC Board, MoEF&CC, MNRE, IIPA, JNU, TERI ,ASCI and also at USIEF, IUSSTF, UNDP, GIZ, Germany and Swiss Development Corporation , Embassy of Switzerland. She also served as the Chairperson of Women Harassment committee of DST and now guiding SERB at the Department.
Dr Nisha Mendiratta feels deeply for women empowerment and therefore, she is also highlighting role of women in various S&T domain as DST's representative through her efforts from WISE-KIRAN Scheme and connecting to the national goal of sustainable development for gender and education to girls much needed for society.
Former Executive Directors